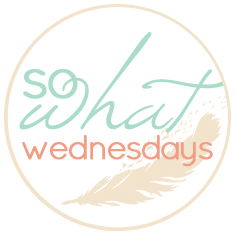 Linking up with Shannon this week to say so what to a few things!
So what if my MIL texted me this morning to see if the little could come stay Thursday & Friday night with them and I couldn't respond YES fast enough! Let's face it, 3 year olds are jerks and this Momma needs a little break!
So what if my sister and her family are MOVING into our basement while they search for a house... Re-read that. Yeah that means 4 adults and 3 children in a 4 bedroom house. Oh god. Good thing we are B.F.F.'s.
So what is our husbands are probably going to divorce us for being so annoying when we are together and we will get to live the sister wife life we have secretly talked about :).
So what if my kid all of a sudden decided sleep is not her strong suit & it is making me BALD. No hair don't care.
So what if I bought 15 Disney movies on VHS from goodwill last weekend and have been playing them on loop for myself Scarlet.
So what if so many people I know are pregnant or have just had squishy babies and I want to squeeze them all!
So what if I have accepted the fact that I am a pinterest addict. The only thing I don't like is when shit I want to buy doesn't link back to a site OR I finally find it and it's $2,483,567.69 for a maxi dress.
So what if sister and I got ROBBED by an Indian lady at her garage sale this past weekend when she took a gas oven the tried to steal a pair of flip flops. When I busted her and told her the shit was five dollars, she threw a handful of nickels totaling a DOLLAR and me and hopped in the car and left. People that come to garage sales are so damn cheap ya'll!
That's it for me this week. What are you saying So What to?
Link up!